Download summary details: contact us for a specific requirement
Portable Scrap Shear with Outrigger and Pre-Compression Wings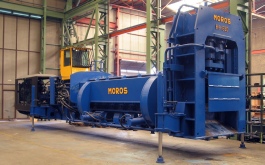 Reinforced structure
High cutting speeds and efficiency levels
Split hinge for easy maintenance
Grooved guiding in the hold down
Exclusive Moros design of the wings
The innovative design lets you close the machine fast if working with light scrap, thanks to the combined flat and rounded surfaces in a single wing. Unlike with a conventional wing, you can process heavy scrap with this engineered corner in the wing. Furthermore, the over compression mode lets you compress the scrap in the pre-compression box.
Efficient and Fast Hydraulics
Hydraulic re-circulation and combined movements of the cylinders (precise positioning control throughout the stroke) enables high efficiency and production rates.